Halotherapy (Salt Cave)
in Twin Falls
Our salt cave is a place to rest and relax while you inhale micron-sized Pure Grade Sodium Chloride which cleanses your respiratory system, improves lung function and boosts your immune system. If you suffer from asthma, hay fever, and allergies; consider salt therapy.
Halotherapy can also help with skin conditions including eczema and psoriasis.
Reduce Stress & Depression
Not only is our salt cave a relaxing environment, studies have shown that halotherapy can help manage stress, depression anxiety, and fatigue. The negative ions in the atmosphere of a salt cave have been proven to improve blood flow, reduce inflammation, improve breathing, and strengthen the heart — resulting in a lower resting heart rate.
Natural Skin Help
Halotherapy improves the skin by penetrating its deep layers providing healing. It helps balance the skin's PH levels, stimulate the regenerative and restorative process in the outer layer of the skin, and enhance skin regeneration and elasticity. Halotherapy also helps reduce skin conditions such as psoriasis, eczema, rashes, acne, dermatitis, rosacea, and fungal infections.
Helps Asthma & Allergies
During a salt therapy session, you breathe in air with tiny salt particles which helps improve breathing and is considered an alternative treatment for lung problems such as asthma, bronchitis, and cough. The salt also kills pathogens such as bacteria and viruses which incite an asthma attack.

Explore Our Full List Services & More!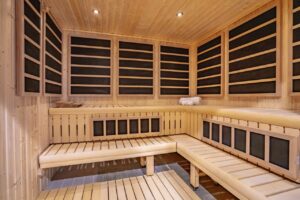 IR Sauna
If you're an athlete in Twin Falls, recovery is an important part of your journey to peak performance. As you push yourself to achieve success