PMB Therapy & NovoTHOR
in Twin Falls
Healing at the Cellular Level
About the NovoTHOR Wholebody Light Pod
Experience what professional athletes and special forces use to recover and increase their performance. 
Try the only NovoTHOR light therapy bed in Idaho and the surrounding states!
NovoTHOR offers a drug-free approach to full-body pain relief, recovery, and improved performance. Utilizing photobiomodulation (PBM), light waves target the body's cells and stimulate recovery, relaxation, growth, and repair. This innovative therapy has been shown to treat and prevent various conditions and diseases. 
In just 15 minutes, you can start the process of healing!
Treat the Whole System
When you injure your body or experience an illness, it affects the whole system. Novothor offers relief and support to the whole body, from head-to-toe, so that you can treat the problem at the source & not just the symptom.
Ditch the Pain Meds
Drugs are used to cover up pain and provide temporary relief. NovoTHOR treats the pain at the source by healing muscles and promoting regrowth. NovoTHOR users report significant decreases in both chronic and injury-related pain in the long term, allowing them to leave their drug dependence behind.
Recover Faster & Easier
Athletes and health enthusiasts alike are using NovoTHOR to recover more quickly from intense training and to improve their results. Studies have shown an increase in strength and endurance in athletes who utilize NovoTHOR versus those who don't.
Frequently Asked Questions
What's The Difference Between Red Light Therapy & PMB?
The major difference between red light therapy and PMB (Photobiomodulation) is that PBM utilizes near-infrared light to penetrate deeper into the body to effectively treat muscles, bones, and even internal organs. Red Light falls between ~600-700nm on the light spectrum and is visible to the eye. It can be used as an effective treatment for some surface-level maladies, including bacteria-caused acne. Infrared Light (IR), however, falls between ~400-700nm and is not visible to the human eye. The smaller waves make it possible for IRL and near- IRL to penetrate deeper, stimulating the whole body and its systems more effectively.
Will I Need Eye Protection?
You will not need eye protection because red light and near-infrared light are actually good for your eyes. However, you can use eye protection or close your eyes if it increases your comfort and allows you to relax more.
What Will it Feel Like?
Many users report a sense of euphoria and deep relaxation while using the NovoTHOR light therapy beds. An increase in circulation can also provide a sense of warmth throughout the body. Although you might expect your body to feel hot, similar to the sensation of lying in a tanning bed, the bulbs within the NovoTHOR don't actually become warm.
Do I Need to Be Clothed or Naked?
Remove as much clothing as you find comfortable. The more skin exposed will increase the effectiveness of your treatment.
About the Handheld Photobiomodulation (PBM) Therapy
We're currently treating sprains, strains, and some oral mucositis (inflammation of the mouth and gut caused by chemotherapy and radiation treatments) with great success.

During PBM Therapy, a handheld device applies red and near infra-red light over injuries or lesions to improve wound and soft tissue healing, reduce inflammation, and relieve pain.
This is similar to our NovoTHOR Whole Body Light Pod, but the handheld device makes it easier to target specific areas and offers an alternative to the pod!
Sprains & Muscles
Target sprains and injured muscles to relieve inflammation, swelling, spasms, and pain.
Mouth & Throat Conditions
Our handheld device can by focused into the mouth to improve wounds and lesions.
Arthritis Pain
Help relieve arthritic pain by targeting problem joints to get mobility back.
Hear About How Float Magic Can Help Alleviate Pain
Explore Our Full List Services & More!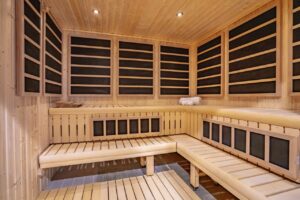 IR Sauna
If you're an athlete in Twin Falls, recovery is an important part of your journey to peak performance. As you push yourself to achieve success